>> user manual
Features
VRM currently offers these features:
SVG as output format.
SVG animation support (using ecmascript).
Optional SWF output using the ming library.
Optional PDF output using the reportlab library.
Toon and Flat shading.
Mesh edges and silhouettes edges.
Option to choose wether or not render object joined together.
Graphical Interface
Here you can see a screenshot of VRM user interface: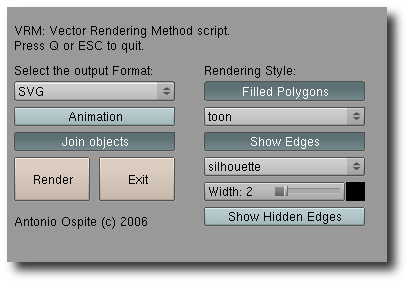 Command Line Interface
VRM can also be used in command line mode, you can render the active scene in a .blend file using the following command:


$ blender -b yourfile.blend -P vrm-0.3.py


Using for example the version 0.3 of the script.